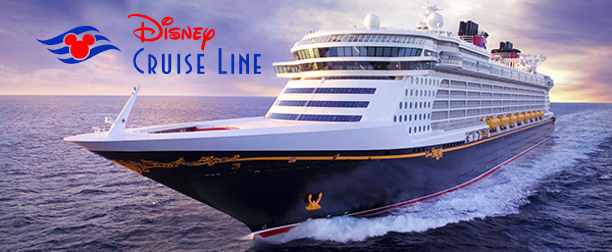 Disney Cruises run a small fleet of 4 ships that sail from 9 different locations each year. While they aren't the biggest cruise line around, having the Disney theme brings in families from all over the world.
They haven't quite made their way to Australia as yet, but a quick direct flight over to Los Angeles (and Disneyland while you're there of course) can easily be incorporated into an amazing getaway.
With themed rooms, restaurants and shows, character appearances and kids clubs you do have to be a big Disney fan to enjoy majority of the ship, however they do have some adult only areas and restaurants where you can get away from all the 'magic' and relax.
Their staterooms are built with families in mind, they are a little more spacious than most being able to cater for up to 4 people per room and even offer 2 bathrooms. They also offer the use of cots, playpens and pushers.
"We vote Disney Cruises at #1 for families."
Disney Cruises Destinations
Alaska
Bermuda
Canadian Coast
Europe
Panama Canal
Bahamas
Californian Coast
Caribbean
Mexico
United States
Value
Disney Cruises is by far the most expensive of the mass market cruise lines, but if you are travelling and want a fun family friendly environment then you can't go past the experts at Disney, they know their stuff and are worth the extra cost.
Its worth a mention that as these ships are American that tips aren't included in the price, there is usually a 15% gratuities surcharge that gets automatically added onto your final bill and the end of the cruise, not a nice surprise if you're an Aussie and not used to having to tip.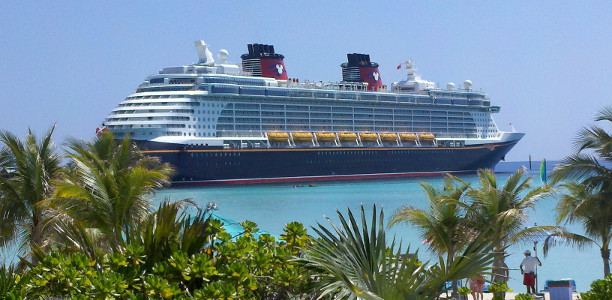 Food & Drink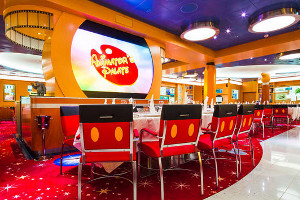 You will feel like you are in a Disney movie when dining in one of the many themed restaurants across the Disney Fleet. Head to Lumiere's main dining room, made to look like the 'Be Our Guest' scene from Beauty and the Beast, there are places like Pluto's hot dogs, Pinocchio's Pizzeria, Goofy's Gallery and the list goes on!
If you need a break from eating and sleeping Disney, there restaurants like Remy's where you can enjoy an adults only, fine dining experience with a Parisian feel or head to Palo's for an authentic Italian meal with all the bells and whistles.
Another great feature to ensure you get to experience all the themed restaurants is their rotational dining system where you dine at set times in a different restaurant each night with your fellow server rotating with you.
If that sounds a bit too structured for you, you can dine at the Beach Buffet area where you can pick and choose your meals and dine whenever you feel like it.
Entertainment
Your kids will have the time of their lives on a Disney Cruises ship, considering half of the deck is laid out with kids clubs, water parks and other activities we doubt you will get spend any time with them they will be kept so busy.
"Perfect for young families"A highlight for every kid is the Disney character appearances which pop up throughout the cruise, they will also love the live shows in the theatre that play original musicals and award winning productions, the pirate themed deck parties and watching their favourite Disney movies non stop in digital 3D.
They haven't quite left the parents out, there are bars, lounges and restaurants where you need to be 18+ or above to enter, there's late night comedy and of course Bingo.
If you were looking forward to playing a hand or two of blackjack, you will be disappointed as are no casinos on board any Disney ships. They certainly offer more for entertainment than many of the other cruise lines.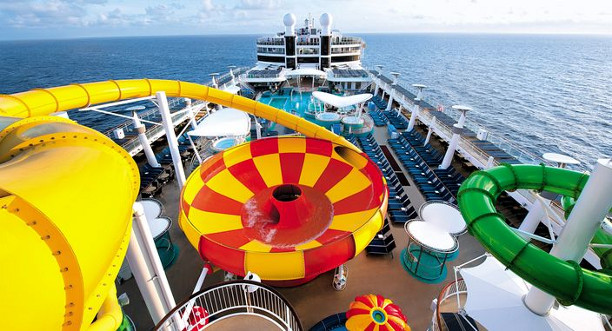 Amenities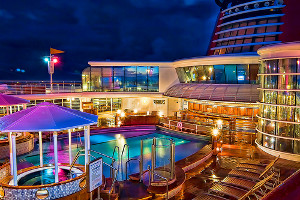 You will find a number of pools on deck as well as a waterslide and an aqua coaster for the young at heart as well as a splash adventure play area for the little ones.
They also have a quiet cove pool just for the adults if all the kids playing and running around become too much.
They have a fitness centre and day spa where you can unwind with a massage or a facial, or clear the mind with a yoga class.
The rooms are quite spacious and even offer a second bathroom with a bath, being family orientated they have thought of everything!
Loyalty Program
Once you've completed your first cruise you will instantly become a part of the Castaway Club.
There are three levels: Silver, Gold and Platinum. Some benefits include welcome gifts, advanced bookings for shore excursions, discounts on future cruises and complimentary dinners in their signature restaurants.
You can also log into their website where Castaway members can download all sorts things like printable colouring pages, recipes, screen savers and e-cards that you can send out to friends.