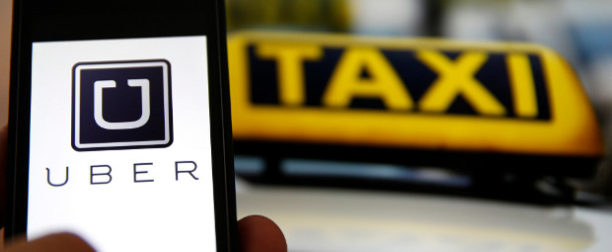 Uber is an amazing innovation in public transport that is taking the world by storm, it's like having a chauffeur everywhere you go that will come calling with just a click of a button.
So if you find yourself fed up with smelly taxis that always turn up late and still have no idea where the most popular landmark is, then Uber is definitely worth signing up for.
We have set up this how to use Uber guide for you so that you can be on your way and Ubering in no time. Don't worry, it is perfectly safe and it literally takes about 2 minutes to register!
How Does Uber Work?
Sign up
Simply go to the Uber website and click the sign up link, from there you will fill in all your details. The whole process literally takes a couple of minutes, tops.
Get a $20 Bonus Credit today!Quick Tip: In the section promo code, if have a friend that also uses Uber, they will have a unique code that will not only give you a $20 credit but also credit their account as well.
You will need either a credit card or PayPal account to continue from here, unlike a taxi, all payments to the drivers are done online with no need for cash or card at the end of your trip.
Download the App
The app is available for free on all devices, simply visit the google store or apple store to download, once downloaded open the app and sign in with the same username and password that you used to sign up with.
Whether you have an iPhone, Android or Windows phone, click the link below to download the Uber app directly to your phone.
iPhone Download Android Download Windows Download
Getting a driver
First you need to select the type of car you want, UberX is the standard car option, but don't be fooled by the word standard, all cars have to be under 10 years old and are spotless inside and out.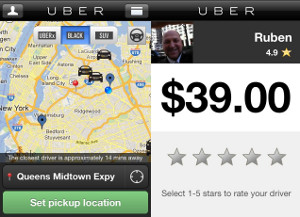 If you want to feel a bit more sophisticated, you can choose the Black Car or the new LUX high end vehicles. Not all countries have such a wide selection as yet and bear in mind that the costs will be significantly different for each vehicle type.
Once you have chosen a car, you then have to pinpoint your pickup location on the map, you will then see all the cars that are available and where they are on the map.
You can even click on the car and see who the driver is and what sort of car they are driving, a pretty cool feature.
Before hitting confirm you will see a fare estimate come up on the screen so you will know exactly how much it will cost you before you even get into the car.
Still a bit wary about getting into a car with a stranger? There is an option to share your trip showing the drivers details and where you are going to any of your friends or family, and if all the drivers having to go through police checks and driving history checks doesn't satisfy you, there is a rating system for each driver that previous passengers can leave, so if they're no good, pick another driver.
How much does it cost?
With each city and country being slightly different we will use Melbourne, Australia as an example.
Uber X – Base fare is $2 and then about 30c per minute or $1 per kilometre with a minimum fare of $6
Uber Black – Base fare is $10 and then about 80c per minute or $2.40 per kilometre with a minimum fare of $25
Places like Sydney have slightly higher prices but the rest of Australia is generally the same.
There can sometimes be an extra charge called 'Surge Pricing' where if the demand for an Uber far outweighs the supply (for example on New Year's Eve) a surge price will come into effect, this will be brought to your attention before you select the Uber, so if you think it's too much you can wait or just take a taxi, bus or train!