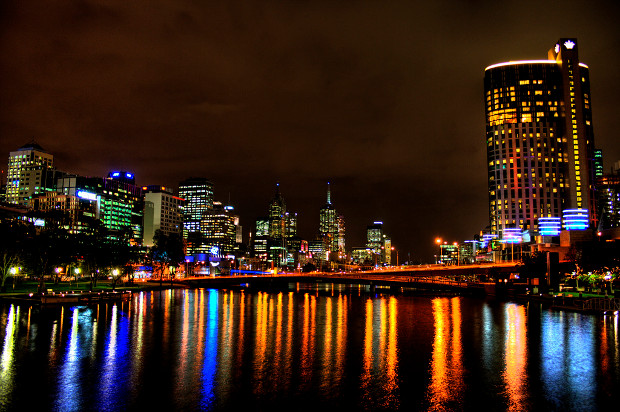 In August 2015, Melbourne was voted the World's Most Liveable City for the fifth year running, so this is a city you simply must visit at least once in your life!
Melbourne has something for everyone, regardless of what time of year it is and it remains as one of the most popular cities in Australia.
We have put together this Melbourne travel guide for you outlining the must see sites, things to do, where to stay and some important travel hacks that will help you get by during your stay. I have personally grown up about an hour outside of Melbourne, so am lucky to have visited this amazing city many times in my life.
When to Go?
Ahh, good question! Melbourne is infamously known for having four seasons in one day. In fact popular Aussie band (or should I say Kiwi?) even dedicated a song to the crazy Melbourne weather.
It could be the middle of winter and the sun shining brightly, followed by rain and then sunshine again. It gets pretty crazy, but winters in Melbourne are relatively tame compared to other cities around the world.
I'd suggest the best time to come to Melbourne would be in the spring time (September-December) or any time after from say December to April. The summers can get hot and I am talking 45 degrees hot!
Things To Do
Melbourne Star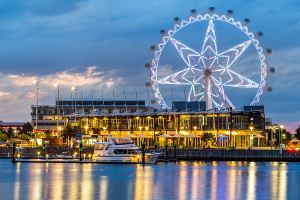 The Melbourne Star is our answer to the London Eye. In other words it is a massive Ferris wheel based in Docklands (about 10 mins from the City Central) and it gives you fabulous 360 degree views of Melbourne. Plus they have a pretty cool audio and visual guide inside the pods explaining the history of Melbourne and pointing out where all the points of interests are. Well worth a visit if you are visiting Melbourne for the first time.
Melbourne Zoo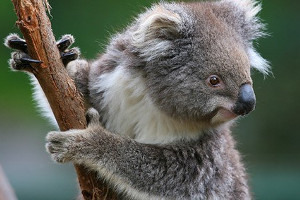 Every major city has a zoo right? Well Melbourne is no different and it is a pretty darn good zoo too. It is located about 4km from the centre of Melbourne and is open from 9am to 5pm every day, bar public holidays. Opened in 1862 and covering 22ha, it contains 320 species of animals, with a total of 5120 animals in total. It is fun for all ages and especially if you have kids. I have been several times and can say it ranks amongst the best I have seen.
Crown Casino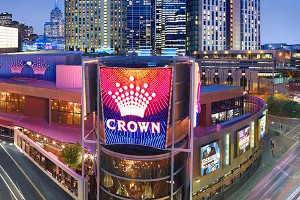 Opening in 1994, Crown Casino is located on Southbank in the heart of Melbourne and is home to 1604 hotel rooms, 2500 poker machines and 500 table games sprawling across two city blocks. It is not all gambling though, there are plenty of high end shopping stores as well as restaurants, games arcades and movie cinemas for the kids, nightclubs for adults seeking a weekend getaway and it is also where Australia's premier functions are held.
Lunar Park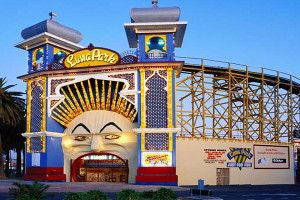 Lunar Park is an old school historic amusement park located in St Kilda which opened its doors in 1912, just outside of the city centre. It is open 11am to 6pm and is fun for all ages. It is famous for the big mouth entrance and it contains two old school roller coaster rides, as well as twenty other rides that will keep you entertained for hours. It is definitely worth checking out if you are in Melbourne for more than a few days.
Go to a Footy Game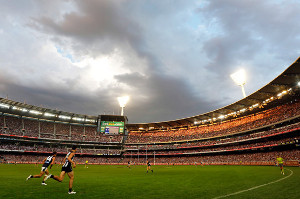 Melbournians love their sports and Australian Rules Football is the number one game in town. The season runs from March through till September and attracts crowds of up to 100,000 people. Footy is a religion in Melbourne and if you are in town it is something you should definitely add to your list. Melbourne is home to two stadiums including the world famous MCG and Etihad Stadium, the latter being an indoor stadium. Perfect for winter!
Where To Stay
The Melbourne city centre is quite large with plenty of accommodation. If you are travelling on a budget then the best two options are City Centre or just outside the city near St Kilda.
The City Centre is the ideal place to stayIf you are on a midrange budget there are plenty of options in the City Centre as well as options scattered throughout the suburbs which are easy to get to by either tram or train.
Fancy splurging a little while in Melbourne? We recommend checking out Crown Towers or any of the hotels that are in the Southbank area.
Melbourne has a variety of AirBnB and other short stay properties for all budgets. You can still make the most of your day before check-in and after check-out by booking luggage storage In Melbourne with mindmybag.
Transport
Transport in Melbourne is both good and bad. If you are staying in the city centre then we highly recommend not renting a car as the traffic on Melbourne roads is amongst the worst in the world, it really is. During big events, we would recommend steering clear of taxis as well as roads can get congested.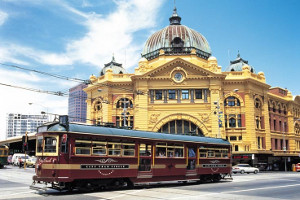 One great feature about Melbourne is the tram system which runs through the city centre. They are slow, but they are a really cheap way to get through the city. In fact some parts are free in the very centre.
There is also the Metro Trains which will take you in and around the city centre underground, or to the outer suburbs of Melbourne. Another option is to use Uber which was recently legalised in Melbourne.
Also keep in mind that the airport is quite a distance away from the city and there is no direct train which is an absolute nuisance. You have the choice of either getting a taxi which will be roughly $40-$50 or you can get a shuttle bus for around $20 which leaves approximately every 15 minutes.
Sports
I mentioned above that Melbournians love their sports. Well Australians in general do, but it really is like a religion in Melbourne specifically. The Aussie Rules season runs from March to September, or in other words during the winter months.
Sport is a religion in Melbourne, especially Aussie Rules footballThat is the number one sport in town and there are nine Melbourne based AFL clubs spread throughout the suburbs.
The international and domestic cricket season usually runs from November through till February or March, so if you are unfamiliar with cricket and are visiting Melbourne in summer, then you better learn some cricket lingo!
Then of course there are sports like basketball with Melbourne United being the only Melbourne team, rugby league and rugby union with Melbourne Storm and Melbourne Rebels respectively, plus A-League soccer with Melbourne Victory and Melbourne City representing the city.
Oh, and don't forget the Australian Open tennis. This is a massive event not just on the Melbourne sports calendar, but on the world calendar. It runs for a fortnight from late January to early February at Melbourne Park, with the final held at Rod Laver Arena.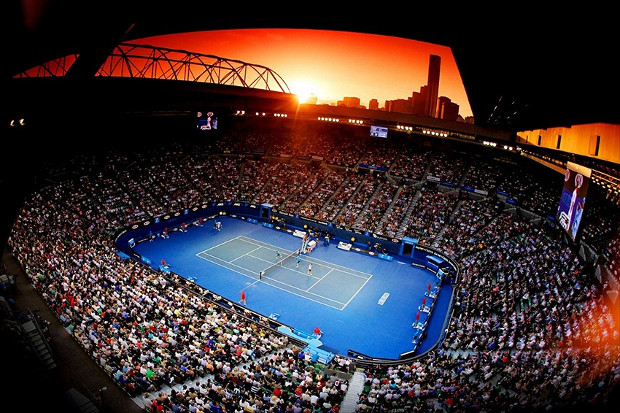 Travel Tips

Money
Melbourne is a relatively expensive city, so expect to pay quite a bit of money wherever you go, be it restaurants, transport and attractions. The currency is Australian dollars and ATM machines spit out either $20 or $50 notes.

Safety
During day hours you will be safe everywhere in Melbourne, however in the afterhours it would be recommended steering clear of the western, northern and south-eastern suburbs.  King Street has known to be rough in the early hours.

Eating
There are plenty of eating options along Southbank with beautiful views over the Yarra River. We would highly recommend you go to Carlton and Fitzroy where there is an abundance of highly quality restaurants representing all cuisines.

Shopping
There is a ton of options for shoppers in the City Centre head up to the Bourke Street Mall or to Chapel Street, or take a train out to some of the outer suburbs where there are giant shopping centres. You are spoiled for choice.